special.morning
2007-10-19 08:55:26
I had an early morning meeting the other day and while I secretly hate those when I'm peeling myself out of bed super duper early, I then LOVE them when I get out and get to enjoy that early morning magic that is soo special…when the sky is slowly brightening, everything is very quite and it's very crisp and cool.
The colors are often ultra rich and it sort of makes you feel like taking a deep breath and enjoying the moment!! My Dad has always told me that his favorite time of day is like 6am when it's a fresh crisp, morning…the sun is rising and you know you are of the select few people awake, able to enjoy that special moment.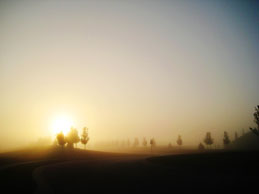 Often times the fog rolls in out here in the country where we live and I get soo excited because it looks SOO cool and makes me want to go out and shoot!! I was pulling out of my neighborhood and the mist in the air was SOO cool that i had to stop and pull out my point and shoot!
The sun was this foggy bright yellow spot in the sky and the colors were hazy and muted, but still very bright and vivid. As I drove down my country road, I saw horses eating the pasture in this rich, colorful mist and they looked like they were straight out of a painting. It was a magic morning and I was soo glad that I was able to catch it!
HAPPY FALL!! 😉 (and yes, it's finally fall here…but still depending on the day….yesterday was 83, today will be 66!)